The Trend: Denim Shirt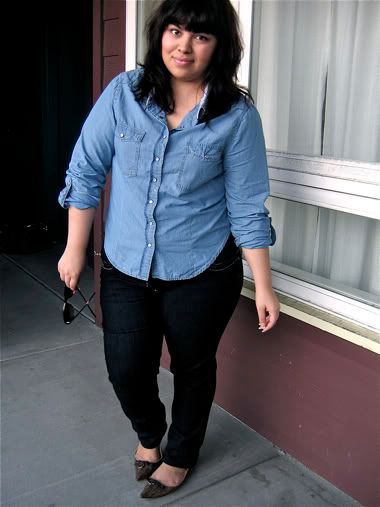 J. from
fatshionable
wearing New Look denim shirt
Valerie from
Blog to be Alive
wearing Dorothy Perkins denim shirt
Stephanie from
Buttons, Bows & Brogues
wearing New Look denim shirt
The denim shirt is one of those versatile wardrobe staples you can wear in many ways, as shown by my blog friends. It's a year round shirt in my opinion, you can transit from season to season with just a few changes and accessories. I've had my eye on a denim shirt for a while, so its definitely going to be in my closet this spring.
Trends & Friends is a new feature I am trying out on my blog. I wanted to showcase trends as well as real people wearing them. I hope you like it, I value your comments and feed back. Thanks to J, Valerie and Stephanie for allowing me to use their pictures. I will be on the look out for more trends, so if you want to be featured as a "friend" please
email me
. I will also be contacting you to use some of your pictures. You don't need to have a blog or website to be featured, I just need your pictures.
Enjoy!