The Trend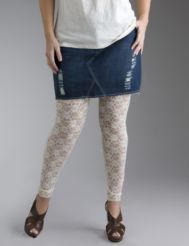 (available in ivory & black)
Dorothy Perkins 28.00 gbp
Lace is every where right now and a big trend for spring/summer. Lace is typically thought of as being dainty & feminine or something your grandma would wear. Well not any more, fashion is cyclical and lace has made a comeback in a modern form. Today's lace is still feminine but with an edge. You can wear lace leggings to show a sexier side or wear a lace blazer to add a more modern edge. The classic lace dresses have also been updated and you can find them in all silhouettes to fit your style. Whether it be full lace or just touches of lace, this trend is catching on. Check out my lovely friends wearing their lacy outfits. Don't they look smashing!
The Friends
Lauren from The Pocket Rocket is wearing lace overlay dress from Dorothy Perkins. She was not to sure about the lace dress, but now its her favorite and she loves it!
Amanda from Fashion, Love & Martinis is wearing floral lace illusion dress from eShakti. She loves her lace dress, its her spring awakening outfit. "fresh, flirty, short, and fabulous; what more could a girl ask for?"
Yolanda from
Diva in Deep Thought
is wearing lace leggings from Lucie Lu. She is looking divalicious with her Dorthy Perkins dress in that awesome green color.
Beth from
Pretty in Plus
is wearing lace leggings from Yours Clothing. She paired the leggings with a fun sweater dress and pearls, adding a touch of flirtatiousness to her outfit.
Thank you to all the lovely ladies who allowed me to feature them in my blog this week. This weekly post is turning out to be a favorite of mine. I look forward to seeing all of you in your fabulous trends each week. Don't be shy, if you have a great outfit and want me to feature it on my trends & friends, just email it to me. You can also contact me on twitter, I'm always there!