The Trend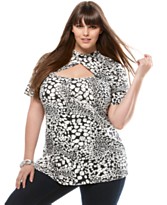 INC Animal Print Cutout Top
Macy's $41.30
Animal Jewelle Neck Kaftan
Evans 27.00 gbp
Another print this week, are you noticing a "trend" in trends and friends. So many prints so little time! Animal prints are nothing new, you can go way back into fashion history and see them through out the decades
. In my opinion animal prints are classic, when done right. It can be as subtle from wearing animal print shoes or accessories, to a dress, skirt, top or coat. Just make sure you don't become a fashion faux pas by wearing animal prints head to toe. Take a look at my friends in there fun, sassy, sexy and chic animal print looks. Don't they make you want to ROAR! GRRRR!!!
The Friends
Michelle Wood co-founder of La Grande Dame is wearing Melissa Masse animal print dress. She was preparing for a night out with her husband and decided to do a little DIY self tanner, for a glowing look. The next day she awoke to glowing orange & stripey skin. Luckily she got a picture before the tanner set it. She looks radiant in her animal print dress!
Chastity from The Curvy Girls Guide to Style is wearing animal print skirt from Jibri. Even on cold and unpredictable spring days Chastity finds a way to look oh so chic. She paired her favorites, Asos trench coat, leopard pencil skirt and Louis Vuitton scarf. Adding her fave sunnies & red lippy, she's ready to concur the world with her new book! Go check out her blog for all the details. Congrats Chastity!
Sarah from The Pale and Pallor Princess is wearing animal print cardigan from Forever 21. She is never one to shy away from color or prints. The dress she is wearing was a bit to dressy for work, who else would "tone" it down with a pink leopard cardi and hot pink fishnet. Love her daring style choices. Especially envious of her awesome extensive collection of tights!
Gabi from Hungry for Fashion is wearing animal print skirt from Forever 21. She rocked her leopard print skirt for a night out in Sin City, with that skirt and those shoes, she definitely looks sinful! Gabi always pulls off the latest trends in my opinion.
Thanks ladies, your fabulous animal print looks are making want to upgrade from just leopard print flats. I need to catch up on this trend and rock it, just like my friends did! Go check out all their great blogs for more great looks!
I know some of you have great outfits pictures with the latest trends. I love to feature new people each week, so don't be shy and send me your pics! Future trends I am looking for are ruffles, tie dye and polka dots! Email your pictures with your name, blog or website and outfit stats.