The Trend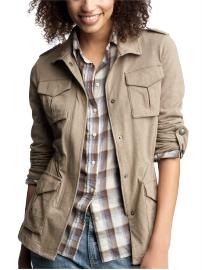 Knit Military Jacket
The Gap $49.50
(Gap online has xxl which is about a sz 20/22)
Hooded Parka
Asos Curve $93.00
Khaki Zip Jacket
Evans 45 GBP
Metallic Hooded Parka
New Look Inspire 35 GBP
Long Snap Jacket
The army/utility jacket trend isn't a new one. I remember back in the 90's when I was in high school, lots of people wore actual army jackets. You remember the 90's grunge look, flannels, doc martens & army jackets were the staples of this fashion trend. I never had an army jacket, the only place to get them back then was either an army surplus store, or if you got lucky finding one at a thrift store
. Today the army style jacket has made a come back. The runways were very military inspired with these types of jackets. Today's modern twist is wearing your jacket with dresses, skirts and more feminine looks. You can also rock it out with your jeans/skinnies or shorts and look great. A few of my blog friends have totally made this trend work. After seeing these curvy cuties in their army/utility style jackets I just had to have my own. Check out my look here.
So how do you feel about this army jacket trend. Is it stylish with dresses & skirts? Better with jeans or more casual looks? Take a look at the outfits below, maybe my friends will help you decide.
The Friends
BBM from Big Beautyful Mess is wearing a Old Navy jacket. She totally made it work for Lucky magazine challenge. She was my style inspiration!
Amelia from Sound Bites is wearing a Gap jacket. Paired with skinny jeans and combat boots made the perfect mix for day walking around the city.
Allison from

Curvy Girl Chic is wear a Gap Jacket. She is remix queen, she makes all the trends work. Check how she rock her army jacket for a casual look & a more feminie look with a cute dress
.
Thanks to the ladies for allowing me to feature them in my Trends & Friends post. Sorry it was a bit late this week. I am still adjusting to my work hours, and making time for my passion; My Blog! If you enjoy my weekly post and want to be a part of it, don't be shy. Email me your pictures so I can feature you wearing the trends. It will be easier to continue this feature with your help!